Basement Waterproofing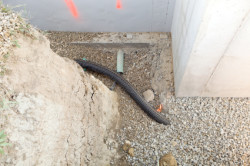 Is your basement suffering from moisture-related issues? Whether it floods every time it rains or you've noticed a mold problem, United Specialists Inc. can help. Our basement waterproofing team is fully bonded and insured, with 40 years of experience in the business. We're able to offer wet basement solutions that are effective both immediately and in the long term, so you can look forward to a waterproof basement for years to come. We put quality workmanship first on every job. Our basement waterproofing contractors will give you our best, every time. Call or e-mail us to learn more, and to schedule the basement flooding and waterproofing solutions you need. We offer free cost estimates! 
Every home is unique, and so is every wet basement. At United Specialists Inc., we'll always take the time to customize our basement waterproofing solutions to meet your specific needs. We'll determine the root cause of your moisture issues first, so we can explain all the options available to you and help you make a decision on how to move forward. By being thorough in our initial evaluation before starting to waterproof the basement, we can save you time and money while giving you a more effective end result.
Our options for waterproofing a basement include: 
Applying ThoroSeal to coat basement walls and seal pores and voids. We can also use an elastic paint for walls that may still be shifting.
Excavating from the exterior and pargeting foundation walls with a layer of cement. This creates a moisture barrier. In this instance, we'll also install a dimpled fabric that will transfer moisture to an exterior footing drain. 
Installing an interior footing drain. This can be done by removing concrete, installing a drain system, and replacing the concrete, or by installing a surface drain system. In both cases, the goal is to quickly collect and channel water out of your basement. We use a 12-mil vinyl vapor barrier to help keep moisture out. 
Installing a sump pump to pump excess water from your basement. 
Repairing foundation cracks where moisture is getting in.
Experienced

Basement

Waterproofing Contractors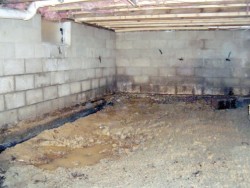 The basement flooding experts at United Specialists Inc. have been in the industry since 1973. In that time, we've learned firsthand what basement waterproofing solutions work best in different situations. We're able to give our customers top-notch workmanship because we're familiar with all of the options out there, and we care deeply about giving you our best. If you're waterproofing basement walls, floors, and other surfaces and want to breathe easy knowing you're in excellent hands, choose United Specialists Inc. 
What else sets us apart from other basement waterproofing companies in the Albany area? We stand behind our basement waterproofing services with a 10-year warranty. We do our estimates and evaluations with you present, so you can be sure you're seeing what we're seeing. We also try to get the job done with as little inconvenience to you as possible—we want you to still be able to live in your house while we're doing the work. We'll send two to three basement waterproofing specialists to your home and aim to finish the job within five working days. We want to be your only choice for basement waterproof help in the area. 
You
shouldn't ignore water in your basement. Wet basements and crawlspaces can create major health and structural problems for your home. Moisture encourages mold growth, which is a serious health risk for you and your family. Excess moisture can also exacerbate foundation problems, create wood rot issues, and compromise the structural integrity of your home. Seek help by calling United Specialists Inc. today! Our quality of work is high and our prices are among the lowest around. We're standing by to give you the help you need. 
Dry Basement
Basement leak
Basement Waterproofing Contractor
Basement Waterproof
Basement Waterproofing Company