Crawlspace Waterproofing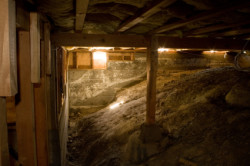 When it comes to crawlspaces, out of sight and out of mind often applies. However, it's important not to let this happen to you! Water in a crawlspace can cause a host of issues for your building, just like an overly wet basement would. Crawlspaces often have moisture problems due to the fact that most have dirt floors. Because you probably don't go into your crawlspace frequently, you might not even realize you have a moisture problem until the damage is done. But help is on the way. United Specialists Inc. is available to provide crawl space waterproofing services in and around Albany. Our crawl space encapsulation tactics will keep your crawlspace dry and safe. Call or e-mail us today to get more information on the crawl space waterproofing solutions available to you! 
A damp, musty crawlspace can lead to your building experiencing issues including:
Structural decay of building elements like joists, floorboards, and beams

Mold and mildew growth, which can impact your interior air quality, damage your building's structure, and even make occupants sick
Insect and rodent infestations (and their accompanying ill-effects)
By taking steps to waterproof the crawl space, United Specialists Inc. can help you avoid these issues going forward. We'll protect the space top to bottom, creating a crawl space moisture barrier that will stop seepage and reduce dampness while also keeping insects and other vermin out. We have a wide selection of crawl space encapsulation products at our disposal, and one of the things that sets United Specialists Inc. apart from our competitors is that we'll take the time to explain the various wet crawl space solutions to you. We'll work with your building's needs and your budget to ensure your total satisfaction. Plus, depending on the severity of your wet crawl space problem, our professionals can even install a sump pump to channel water outside and encourage a dry environment inside. 

Bonded & Insured for Waterproofing a Crawl Space
The team at United Specialists Inc. has the knowledge, skill, and superior products to install a top-quality crawl space encapsulation system that will last for years to come. We're a fully bonded and insured business, with 40 years of experience dealing with crawl space moisture problems. We're also affiliated with the Bethlehem Chamber of Commerce. For your added security and peace of mind, we back up our superior workmanship with an array of warranty packages.
Call today to schedule encapsulation of the crawl space beneath your home! We offer regularly scheduled appointments as well as emergency services, if you need a waterproof crawl space as soon as possible. Plus, we'll be happy to give you a free cost estimate for an encapsulated crawl space, based on an on-site evaluation of your moisture issues. If you're ready to take concrete steps to improve your building's health, safety, and structural integrity, United Specialists Inc. is here for you. 
crawlspace waterproofing
waterproof crawlspace
crawlspace sealing