Drainage System Installation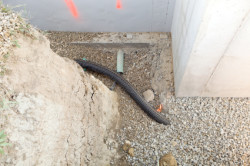 Do you have a problem with excess moisture or standing water in your basement or crawlspace, or around your foundation? Turn to the drainage installation professionals at United Specialists Inc. We have 40 years of experience creating effective drainage systems for homeowners in the Albany area. You can always count on our team for quality workmanship and knowledgeable customer service. We also offer some of the best prices you'll find for drainage pipe installation in and around Albany. United Specialists Inc. truly cares about giving you a dry basement and sturdy foundation, so your building is safe and healthy for its occupants. Call or e-mail us now to learn more about your drainage system options, and to discuss getting a free cost estimate based on an on-site evaluation!
United Specialists is able to install a variety of drainage systems, based on your specific needs. We always try to tailor our drainage system installation services to the exact issues you're having, whether you're experiencing weather-related flooding, constant seepage, or other problems. We can install:
Exterior footing drains to channel water away from your building's foundation before it gets in
Interior footing drains below your basement's concrete floor
Interior footing drains on the surface of your basement's floor
Sump pumps to channel water out of the basement and away from the building
And more!
Whether underground drainage systems are your best bet or you'll be better served by installing drainage on the surface of your floor, United Specialists will get the job done right. We're experienced basement waterproofing experts, and we understand how important it is to have a consistently dry basement or crawlspace. We'll work hard to meet your basement drainage system needs.
Quality Basement Drainage Systems
Whatever type of drainage system we install in your building, you can expect it to work properly and to last. We're a fully bonded and insured business with ties to the Bethlehem Chamber of Commerce. We use quality products, and we stand behind our drainage installation work with comprehensive warranty packages to protect you. If you care about quality when it comes to your crawlspace or basement drainage systems, you've come to the right place.
One of the things that sets us apart from our competitors offering installation of surface and underground drainage systems in Albany is our aim to get the job done with as little disruption to your routine as possible. We want you to be able to live in your home while our contractors work, and we generally finish in five working days.
Want to learn more about United Specialists' crawlspace, foundation, and basement drainage system offerings? Call now to discuss your drainage needs!  
Drainage Systems
Basement Drainage Systems
Drainage Installation