Foundation Waterproofing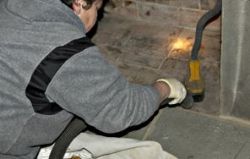 Are you concerned that your foundation is letting moisture seep into your basement or crawlspace? United Specialists Inc. is available for foundation waterproofing services in and around Albany. We offer quality workmanship and professional customer service, all at some of the lowest prices in town. We'll give you a waterproof foundation that will be able to do its job of providing structural stability to your home. We use a variety of state-of-the-art interior and exterior waterproofing tactics that are tailored to your specific needs. You can put your trust in our 40 years of experience on the job—our bonded and insured pros will work hard for you! Call or e-mail United Specialists Inc. today to get more information and to schedule your initial appointment to discuss waterproofing the foundation of your building!
When water seeps through your foundation, especially when your foundation is crumbling or cracked, it can cause major problems for your home. From weakened stability to mold growth and beyond, moisture issues aren't to be taken lightly. At the same time, there's no one-size-fits-all way to waterproof a foundation. United Specialists Inc. will always do an on-site evaluation of your needs, determining the root cause of the moisture problems your property is having. Then, we'll talk over your options for a waterproof foundation with you, so you can choose what's right for your needs and your budget.
We use foundation waterproofing systems including:
Interior concrete foundation waterproofing: We can apply ThoroSeal coatings to your basement or crawlspace walls, stopping water from seeping through. When you select interior waterproofing, we'll usually also install a drain and sump pump to get moisture out quickly. 
Exterior foundation waterproofing: If your moisture issues are serious, your best bet might be to have us excavate around your foundation and parget the foundation walls with a layer of cement. We'll also put up a dimpled fabric that will transfer any water that collects to an exterior footing drain.
Foundation repair: A key part of all foundation waterproofing systems is making sure that any cracks or holes in the foundation are sealed. After all, it won't do any good to install drains and membranes if you don't stop the water from coming in through cracks. When it comes to foundation repairs, we've got you covered.
Free Foundation Waterproof Estimates
It's important to take care of waterproofing a foundation as soon as you realize you have a moisture problem. If the only thing holding you back from seeking interior or exterior waterproofing service is worry about the cost, it's time to call United Specialists Inc. We're pleased to offer free cost estimates for all jobs. With you by our side, we'll inspect your premises and offer estimates for the various interior and exterior foundation waterproofing options available to you. From sump pump installation to waterproofing exterior basement walls, we'll charge you rates that are reasonable and competitive for the Albany area.
Call today to discuss your foundation wall waterproofing needs! We'll tell you more about our extensive qualifications and our warranties. We look forward to working with you. 
Waterproof Foundation
Basement Foundation Waterproofing