Masonry Repair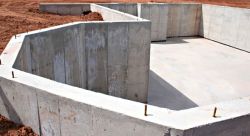 For masonry repairs in Albany, look no further than United Specialists Inc. In addition to providing quality basement waterproofing and drainage installation services, we're pleased to offer select masonry restoration services. Whether you have a masonry wall that's crumbling due to water damage or you need masonry crack repair in your chimney, we've got you covered. In fact, we even offer chimney relining. Call or e-mail us today to learn more about what we can do for you, and to schedule an appointment with our masonry contractors! We'll be happy to give you a free cost estimate, as well. We want to be your best and only choice when it comes to masonry companies in the area.
United Specialists is a bonded and insured masonry repair business. We're affiliated with the Bethlehem Chamber of Commerce, which reflects our track record of satisfying our customers' needs. Beyond those qualifications, we've been in the business since 1973, giving us 40 years of experience as waterproofing and mason contractors. When you need masonry restoration or repair and want to work with pros who truly know what they're doing, you've come to the right place.
Wall Masonry Contractors
Water damage, age, and other issues can lead to crumbling and deterioration in your home's brick and block walls. United Specialists is pleased to provide masonry wall repair to ensure that your foundation remains strong enough to protect you and your family. We can resurface and reinforce walls using tried-and-true masonry repair techniques. We can also carry out masonry crack repair to fill minor cracks so they don't become worse or let unwanted moisture into your walls. When we're finished, your walls will be sturdy and safe once more.
Chimney Masonry Repair
United Specialists' mason contractors are also available to work on oil- and wood-burning chimneys. Chimney masonry repair can involve filling cracks and reinforcing deteriorating mortar joints, in a process known as repointing. Water and weather exposure can leave your chimney susceptible to major damage, and hiring a masonry contractor can be a fast and effective way to avoid larger problems down the line. When you work with United Specialists, our turnaround time for chimney and fireplace masonry repair is generally three days from your initial phone call until the job is done, with on-site repairs taking as little as 45 minutes.
As with all of our services, we want to avoid inconveniencing you during masonry repairs. We'll do chimney and other masonry services with you home, and we'll work quickly so you can get back to your usual routine as soon as possible. Call now to schedule an appointment with a masonry contractor from our team! 
United Specialists Inc. does not do gas fireplace installations at this time. 
Masonry Wall
Masonry Contractors
Masonry Repair