Sump Pump Installation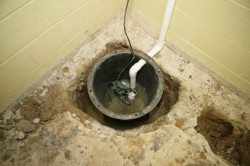 Is keeping unwanted moisture out of your basement a constant struggle? It might be time to install a basement sump pump. With the aid of a basement pump, you can ensure that any water that makes it inside your structure is quickly pumped back out. Call the knowledgeable and skilled contractors at United Specialists Inc. to discuss installing a sump pump. We take pride in offering top-notch installation workmanship, and we stand behind our sump pumps with a three-year warranty. When you choose our team to install a sump pump, you can expect long-lasting results. Contact us via phone or e-mail now to learn more, and to get a free cost estimate for basement sump pump installation! 
A sump pump install can help you avoid the water damage that can result from moisture and water issues in your basement and your foundation, as you're getting the water out before it can cause serious issues. Because your sump pump starts working as soon as water arrives in your basement, it can make the difference between a damp basement and serious basement flooding. Working with the sump pump install pros at United Specialists is a proactive way to protect your property and your health from flood fallout.
United Specialists can install a sump pump alone or as a component in a larger basement waterproofing system. When you call us to talk about installing a sump pump, our first step will be to determine your specific needs. We'll do a thorough evaluation of your property and your moisture problems before making any recommendations about your basement pump options. We have pumps available to handle routine groundwater evacuation as well as sudden emergencies, such as flooding after a heavy rainstorm. Regardless of what we recommend, you can trust that we work with some of the best basement sump pump models on the market. Our goal is to ensure that your home stays dry, safe, and healthy down the line.
At United Specialists Inc., we put quality first. We're a fully bonded and insured business, and we're affiliated with the Bethlehem Chamber of Commerce. Beyond those qualifications, we've been on the job since 1973, making us one of the Albany area's most experienced basement sump pump installation companies. We have the expertise and knowledge to provide the absolute best in basement sump pump system services, whether you want a back-up sump pump for ongoing wet basement protection or you need emergency assistance. 
Flooded Basement Pumping
United Specialists is pleased to offer emergency service, if you're experiencing sudden and severe basement flooding. Have you suffered a burst pipe? Has bad weather sent water rushing into your basement? Call us. We'll come out to your property with basement pumps right away and get to work pumping that water out. When you need assistance as soon as possible to deal with a flooded basement, we're the sump pump installers you can trust for quality results fast. 
If you're ready to protect your basement or crawlspace from devastating flooding, pick up the phone and get in touch with the team at United Specialists. Our sump pump installers are standing by to meet your needs. We look forward to working with you! 
battery sump pump
Sump Pump Installer
battery backup sump pump